Nathaniel Rateliff
Music

•

4.5/5
Singer and songwriter based in Denver, whose influences are described...
Emilie Autumn
Music

•

4.3/5
Singer-songwriter, poet, author, violinist, and actress.
Adrenaline Mob
Music

•

3.4/5
Heavy metal supergroup formed in early 2011 by singer Russell Allen,...
Metalcore band from San Diego County, California.
Gaelic Storm
Music

•

4.8/5
Celtic band founded in Santa Monica, California in 1996.
Singer-songwriter, screenwriter, radio personality, and actor.
Alice Cooper
Music

•

4.1/5
Singer, songwriter, and actor whose career spans over 50 years.
Rock band formed in Pasadena, California in 1974.
"Weird Al" Yankovic
Music

•

4.5/5
Singer, musician, record producer, and actor who is known for...
Near Dark
1987 Movie

•

3.9/5
Neo-Western horror film co-written and directed by Kathryn Bigelow...
Christine
2016 Movie

•

3.7/5
Biographical drama film directed by Antonio Campos and written by...
Sleepaway Camp
1983 Movie

•

3.7/5
Slasher film written and directed by Robert Hiltzik, who also served...
The Howling
1981 Movie

•

3.5/5
Horror film directed by Joe Dante and starring Dee Wallace, Patrick...
Psychological horror film written and directed by Lucky McKee in his...
Yellowbeard
1983 Movie

•

3.2/5
British comedy film directed by Mel Damski and written by Graham...
The Boondock Saints
1999 Movie

•

4.4/5
Vigilante action thriller film written and directed by Troy Duffy.
24-hour movie network that catered to fans of the B-Movie genre and...
Star Wars: Episode V - The Empire Strikes Back
1980 Movie

•

4.1/5
Epic space opera film directed by Irvin Kershner and written by Leigh...
Godzilla
2014 Movie

•

3.6/5
Fictional monster, or kaiju, originating from a series of Japanese...
Knights Of Badassdom
2013 Movie

•

3.5/5
Comedy horror film, directed by Joe Lynch, written by Kevin Dreyfuss...
The Secret Of Nimh
1982 Movie

•

4.2/5
Adaptation of Robert C. O'Brien's 1971 children's novel Mrs.
Agent X
2015 TV Show

•

2.3/5
Action drama television series which aired from November 8 to...
Louie
2010 TV Show

•

3.9/5
Stand-up comedian, writer, actor, and filmmaker.
Star Wars Rebels
2014 TV Show

•

3.7/5
3D animated science fiction television series produced by Lucasfilm...
The Twilight Zone
1959 TV Show

•

4.6/5
Anthology television series created and presented by Rod Serling,...
Mystery Science Theater 3000
1988 TV Show

•

4.2/5
Television comedy series created by Joel Hodgson and produced by...
Agents Of S.H.I.E.L.D.
2013 TV Show

•

4/5
Television series created for ABC by Joss Whedon, Jed Whedon, and...
The Walking Dead
2010 TV Show

•

3.7/5
Post-apocalyptic horror television series based on the comic book...
American Horror Story
2011 TV Show

•

4/5
Anthology horror television series created by Ryan Murphy and Brad...
Adventure Time With Finn & Jake
2010 TV Show

•

4.5/5
Fantasy animated television series created by Pendleton Ward for...
Fraggle Rock
1983 TV Show

•

4.3/5
Children's puppet television series about interconnected societies of...
Game Of Thrones
2011 TV Show

•

4.4/5
Fantasy drama television series created by David Benioff and D. B....
Batman: Arkham Knight
Game

•

4.1/5
Action-adventure game developed by Rocksteady Studios and published...
Darkest Dungeon
Game

•

4.1/5
Role-playing video game developed by Red Hook Studios and published...
First-person shooter video game developed by Infinity Ward and...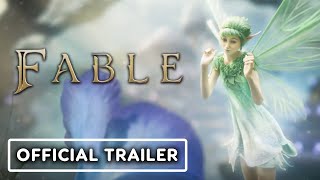 Story intended to illustrate a moral.
War For The Overworld
Game

•

4.5/5
Real-time strategy video game developed by Subterranean Games, which...
Dungeons & Dragons
Game

•

4.5/5
Fantasy tabletop role-playing game (RPG) originally designed by Gary...
Card game of the rummy family of games believed to be a variant of 500 Rum.
Dedicated deck card game by Steve Jackson Games, written by Steve...